June 20, 2019
Thank You Note Tips & Etiquette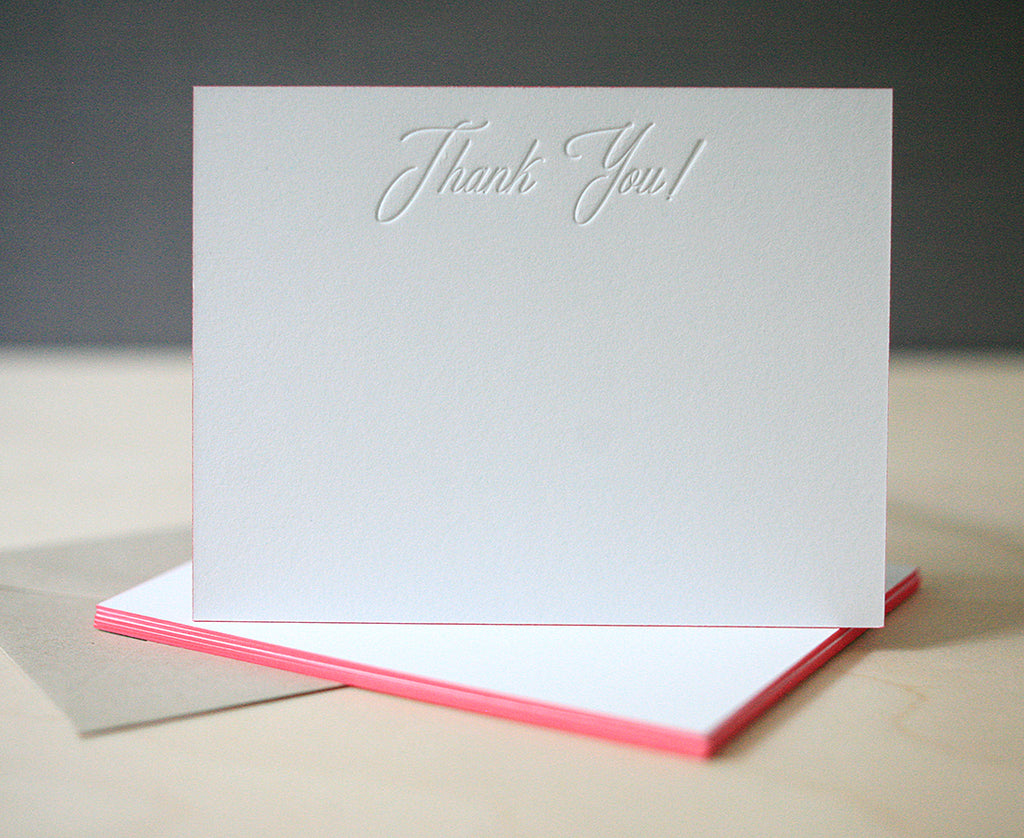 It may seem that the guidelines of traditional etiquette have fallen by the wayside, but even in these digital days, the courtesy of a well-written thank you note will always be welcome and appreciated. When a loved one goes out of their way to send you a gift, host a party in your honor, invite you to stay at their home, or otherwise offer you kindness, a written expression of your gratitude shows your appreciation in a tangible way (and using beautiful stationery certainly doesn't hurt!). 
To help sharpen your thank you note skills, here are a few tips and etiquette guidelines that should make your writing sessions simple and fun!
What to include in a thank you note
A good thank you note is more than just saying, "Hey, thanks for the present!". You want your friends and family to know you really care, and put some thought into what you're writing. So make sure any thank you note includes the following:
The gift or favor
Mention what you're thanking them for, specifically. Don't just say "thank you for the gift" -  that feels generic. Instead, be personal and say, "thank you so much for the lovely serving platter!" or "thank you for hosting us over Labor Day weekend". 

The use or memories
Include a note about how you plan to use their gift. Say "I can't wait to serve my first batch of petit fours" or "This will be perfect for our upcoming neighborhood get-together". If you're thanking them for a favor or experience, mention a specific memory from the day or event. Something along the lines of "that cocktail you served will forever be top 10 on my list", or "I keep smiling when I think of our day at the beach together!" will let the recipient know that you genuinely cherish their hospitality and efforts.
A personal touch
Remember to add a kind personal message at the end, that makes the note about your relationship and not just what the person did for you. Saying something like "I can't wait to return the favor and have you stay with us next Spring" or "We'd love to have dinner with you next time you come through town" shows that you care about continuing to invest time and effort into your friendship.  
When to send a thank you note
Depending on what the thank you note is for, etiquette suggests different timelines for sending. As a general rule, try to send a note as soon as you're able to avoid forgetting all together! 
Weddings
No later than three months after receipt of the gift. Notes for gifts received before the wedding should be sent before the wedding, if possible. Same goes for shower gifts or engagement gifts. 
Other Gifts
For birthday, holiday or congratulatory gifts, condolence gifts, get well gestures, etc., try to send a note within one to two days of receiving the gift (or as soon as the recipient is feeling well enough in the case of a get well gift). If that's not possible, send one no later than 4 weeks after receiving the gift. 
Hosting
When you've been a guest at someone's home, send a thank you note within one week of your return. Or, if someone has hosted a party or get-together in your honor, send a thank you note within 4 weeks.
Donations
If a company or individual has donated to a non-profit cause or fundraiser, send a thank you note within 4 weeks of the fundraiser event or annually for regular donations. 
Job Interviews
Sending a thank you note after a job interview shows courtesy, professionalism and kindness. Send within 24 hours after the interview has taken place. 
What type of stationery to use
Depending on the occasion, you can use standard, non-personalized stationery or more formal stationery to write your thank you notes. For weddings, we always recommend a personalized set of formal wedding stationery that coordinates with your invitation suite. Use your new married name or monogram, as long as you're sending the notes after the wedding. For showers or other parties, use stationery with just your first name or names to avoid using your married name before the wedding. 
It's always a good idea to have a stash of thank you cards and stationery on hand so you're ready for any occasion. Informal cards are perfectly fine for most every-day occasions, and the options are truly endless - shop our selection of letterpress stationery to get your collection started!