October 29, 2018
Jessica + Kyle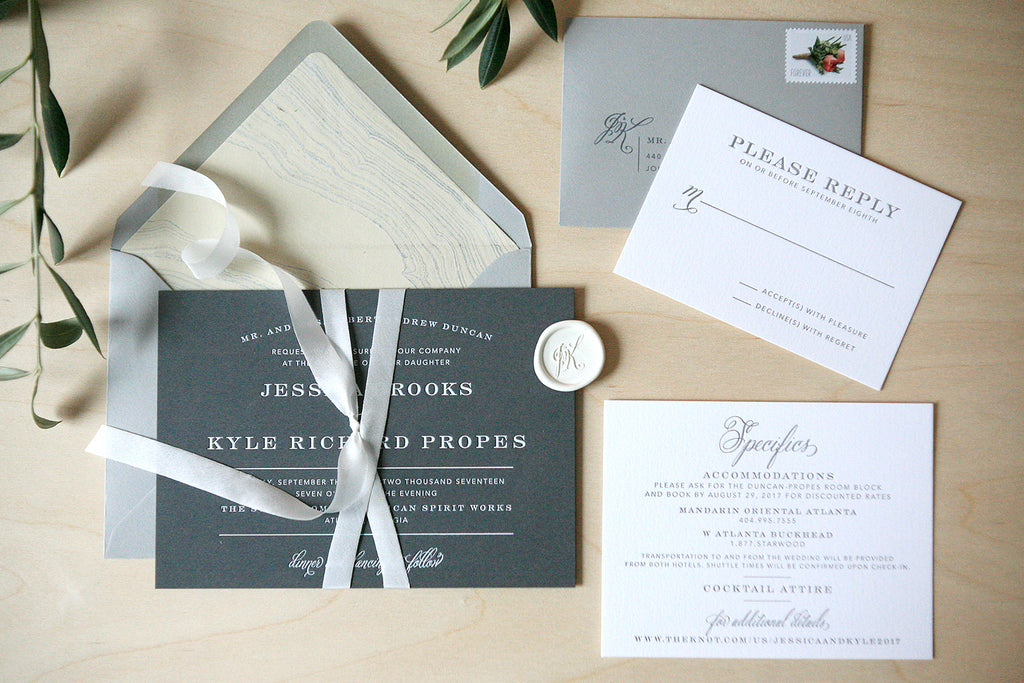 Not much for frills and flourishes, Jessica and Kyle challenged us to create a unique wedding stationery suite that was modern yet luxurious for their wedding, held at the gorgeous Stave Room at American Spirit Works in Atlanta. The venue's vibe is industrial, modern, and chic - and we think their finished suite beautifully embodies that aesthetic! 
Their save the date design began with the idea of replicating the large chalkboard that acts as the centerpiece at the Stave Room. So we created a small tag with a chalkboard background, accented with the couple's monogram and wedding date.
We then carried the same slate and crisp white color scheme throughout the rest of their suite, printing their wedding invitation on extra thick slate paper using white foil for texture and pop. A wax seal in white was the first thing to greet guests as they opened their double envelopes. 
For the wedding day, we continued the theme but added a celebratory feel with elements of copper foil included on their menus, cocktail napkins and even monogrammed guest towels in the restrooms - as well as other items throughout the decor. This warmed the entire look, and truly created an experience that Jessica and Kyle's guests would never forget.